In March 1890, Peter Fairly of Renton FC, circulated a letter to 14 Scottish football clubs inviting them to Hilton's Commercial Hotel on Glassford Street in Glasgow to discuss the possibility of forming a Scottish Football League. The model had worked in England. Football, as a spectator sport, was growing rapidly in popularity and required more competitive matches to satisfy consumer demand. Two clubs declined the offer immediately: Clyde and Queen's Park. Abercorn, Cambuslang, Celtic, Cowlairs, Dumbarton, Hearts, Rangers, Renton, St Bernard's, St Mirren and Vale of Leven all agreed a set of rules, formed a seven-man committee and laid plans for the inaugural Scottish league season to begin in August 1890.
The very first edition of the Scottish Football League was an extraordinarily close-run affair. Dumbarton and Rangers had pulled clear of the rest of the pack, but themselves were proving difficult to split. By the time the Light Blues had played their 15th fixture of the season, they had been beaten just once, a 5-1 reverse at the hands of Dumbarton at Boghead. The Sons of the Rock travelled to Ibrox in their penultimate League match of the season knowing a win would crown them Champions. Heroically, Rangers, through goals from Andrew McCreadie, David Hislop, Neil Kerr and John McPherson, not only thwarted the attempt with a 4-2 victory, but actually put themselves in pole position by virtue of a game in hand.
On the day Dumbarton completed their season's League fixtures, Rangers had an Old Firm encounter at Ibrox to contend with. The Parkhead side were in third place, albeit someway behind Rangers and Dumbarton (partly due to a 4 point deduction for fielding an ineligible player) but still quite capable of upsetting the title charge of the Ibrox men, especially given that they had been responsible for ending Rangers' participation in the Scottish Cup in the 1st Round that season.
At Ibrox, William Wilton's side faltered. Despite an equaliser from Jimmy Henderson, Rangers succumbed to a 2-1 defeat. The equation was simple. Rangers had to win their last match against Third Lanark at Ibrox to equal Dumbarton's points total. Anything less and Dumbarton were Champions of Scotland.
Any nerves were settled early on as Alick McKenzie handed Rangers a 10th minute lead. Thirds would be level at half-time, but McKenzie would score again to restore the Light Blues' advantage. The margin was doubled by David Hislop and finally McKenzie got his hat-trick in completing a 4-1 triumph.
Locked on 29 points and with both sides having played their 18 regulation League fixtures, a problem was posed to the League's committee who had failed to make provisions for such an eventuality (if goal difference or goal average had been in use, then Dumbarton would've been crowned champions). The committee convened and after a discussion, the decision was made to arrange a play-off to determine a winner. The match was scheduled for Thursday 21st May 1891, to be played at a neutral Cathkin Park, home of Third Lanark.
The Saturday prior to the play-off, the two teams were to meet in Scottish League Charity Cup Semi-Final at Celtic Park. A single goal was enough for the Sons to progress to the Final.
An impressive crowd of 10,000 turned out for the deciding match. Rangers lined-up: David Reid; Donald Gow, William Hodge; Robert Marshall, Andrew McCreadie, Davy Mitchell; David Hislop, Jimmy Henderson, Neil Kerr, John McPherson and John Allan.
Dumbarton's XI read: John McLeod; Daniel Watson, Alex Miller; Tom McMillan, Dickie Boyle, Leitch Keir; John Taylor, James Galbraith, John Miller, James McNaught and John Bell.
The referee was a Mr J.Marshall.
The evening's conditions were ideal. There was sunshine and a gentle breeze. Rangers won the toss, and immediately went on the offensive from kick-off. Watson in particular proved difficult for the Rangers frontmen to beat, but still the Light Blues maintained the pressure. The first few minutes were played exclusively in the attacking third from a Rangers perspective, and eventually, a shot from David Hislop found the net. Only five minutes gone, and the Gers were ahead.
Further attacks were repelled, with McLeod called into action on a number of occasions. Dumbarton's first effort of note on goal came through a long-range strike by Keir, but nothing came of it. A foul on Gow resulted in several attempts on goal by Rangers but still the lead remained just one goal.
One Dumbarton attack was foiled by Donald Gow, who quickly shifted the ball downfield. A swift passing move by the Rangers forwards saw Henderson being slipped through and he managed to put the ball beyond the Goalkeeper and into the net. Controversially, the goal was disallowed for offside.
Shortly afterwards, Rangers were in again. The architect was again the full-back Gow. He floated a ball into the box which was punched out by McLeod, but only as far as "Kitey" McPherson. Kitey returned the ball into the danger area, and this time McLeod was unable to get to it before Hislop, who touched the ball into the goal for 2-0.
Before half-time arrived, yet another glorious opportunity came Rangers' way. Allan's effort was denied by McMillan, and the crowd were then thrilled by a beautiful passing move between McPherson and Allan. The Rangers front-line had put in a dazzling display in the first period and were well-worth their 2-0 lead. Indeed, Dumbarton may even have thought themselves fortunate.
The second half started much in a similar vein to the first with Rangers in the ascendency. Hislop again was a threat and saw an effort on goal thwarted by Keir in "grand style." The Rangers forwards were as lively as they bad been before the interval. From a corner, Allan called McLeod into action in spectacular fashion, but the deficit remained at two.
With around 20 minutes to go, Dumbarton summoned something within themselves and produced a neat attacking move. John Bell collected the ball and waltzed through a number of Rangers defenders and tucked the ball away to reduce the arrears to a single goal.
As you would imagine, Dumbarton received great impetus at this point and pushed forward for an equaliser. Only 5 minutes later, another Dumbarton attack resulted in a scramble in-front of the Rangers goalmouth and the ball was eventually forced beyond the line to level the match. The identity of the goalscorer was somewhat obscured but is commonly credited to Miller.
The remaining quarter of an hour saw Dumbarton launch attack after attack. If there was a winner to be found, it would most likely come from the Sons based on balance of play. It wasn't to be however, and when the final whistle came, it was 2-2. It was the deciding match which did not decide.
Another meeting of the League committee was required, and it took the Chairman's casting vote to declare both Rangers and Dumbarton joint-champions of the Scottish League for season 1890-91.
There is a campaign underway to have a mural commemorating Scotland's 5-1 win over England in 1882 painted on the pavilion of Hampden Bowling Club.
Read More »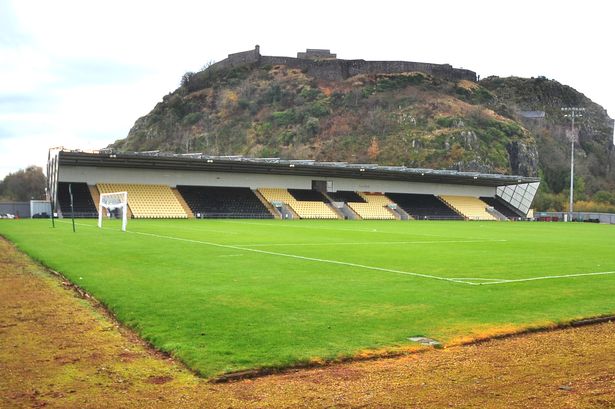 We spoke to the young supporters of The Sons who have taken social media by storm in their support of Dumbarton FC.
Read More »
Russell McFadyen produces another great article looking back at a famous match in 1946 when Rangers met Hibs in the Victory Cup Final.
Read More »