Meet Andy The Photo Doctor
Black and White Photo colouring, repair & restoration
Those of you who follow the North Section on social media will likely be aware of the work carried out by Andy the Photo Doctor. I first saw Andy's work on the FollowFollow Rangers forum, and then I began to see more of his work on social media. We share his content on a regular basis, and if you have seen it before I'm sure you will agree there are some crackers. We had some questions for Andy, and he kindly agreed to give us some answers! 
Hello Andy and thanks for your time. First of all, tell us a bit about yourself and your earliest football memories.
Hello,  I'm 42 year old bluenose who has rather surprisingly found a talent for digital colourisation and design. I'm married to Kelly and we have an 11 year old son who is mad on Rugby opposed to football much to my dismay.
My earliest football memory is watching the World Cup in 1978 with my older brothers and their pal Donald,  I'd only have been 2 and a half but I remember the excitement of it all.  I also remember being thrown about between them when we won which I assume must have been the game against Holland.
First match I remember going to was Kilmarnock VS Rangers in a cup game in the early 80s at Rugby Park, Rangers won 6-1 (I think) with Cooper getting 4 and MacDonald with 2 so not a bad game to see as my first.  It was a surprise going to the game as my brother took me and initially we were going to play pitch and putt. 
How did you get in to colouring photographs?
By sheer luck and boredom,  I had to give up my job as as a manager of a Cash Generator franchise due to my health.  I have a connective tissue disorder called Oesteogenisis Imperfecta,  it's main manifestation is brittle bones but it has a whole host of other issues.  As I get older the body deteriorates. 
So cutting a long story short I find myself in a wheelchair and I was unable to continue in my post of nearly 20 years.  I started messing about on my iPad when I was bored and saw a YouTube tutorial about how to colour photos.  At that point I also wanted a photo of my Dad colourised and had been taken aback at the £60 I was quoted to do it so I thought I'd have a bash at it myself.  Turns out I was not too bad at it and after a bit of nagging from my wife I started posting the pics I was doing online.  Thankfully others like what I was doing and I have never looked back since.
That's brilliant! Why do you think it is important to recolour photographs?
Not to sound too pretentious I think colour adds relevance to images with folks who have only known the world of colour.  The men in football pictures were the heroes of yesteryear and as as relevant as the players today.
One thing that has happened, and I'm really proud of, is some of my pictures are being used with folks who have dementia and helps stir up memories of the past so that a lovely thing I'd hadn't considered happening.
Is there any piece that has given you particular satisfaction?
There are two photos I've done that I'm most pleased with one is an old photo taken by renowned sports photographer Gerry Cranham of Rangers fans walking to Hampden for a cup final in 1961.  That's the one most Rangers fans who follow my page will know me best for.
The other is one of Bill Struth in his office,  it was that photo colourisation that was the one that made me think "aye I'm not too bad at this"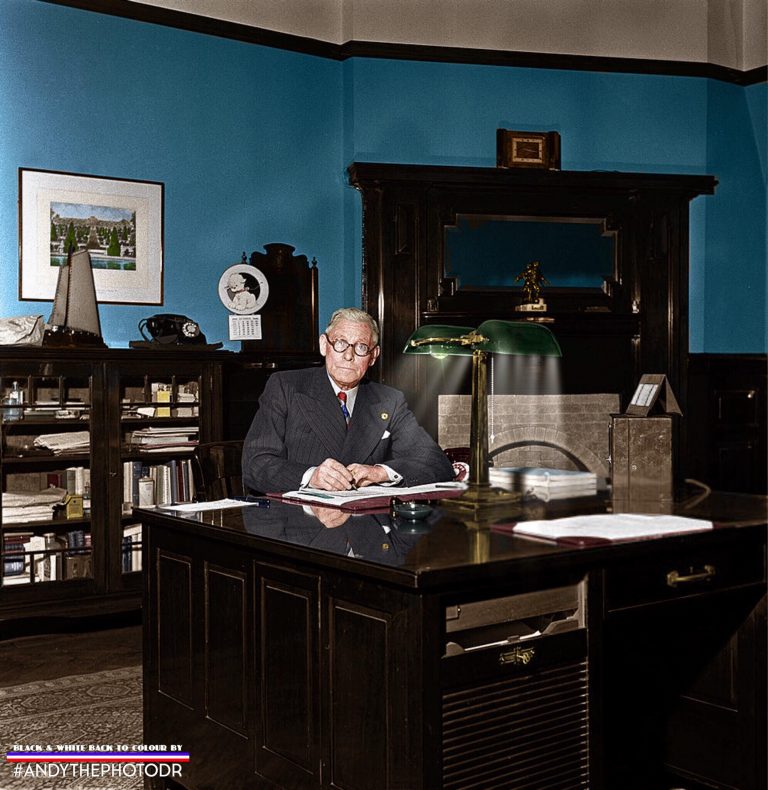 You carry out the restoration of damage photographs too. What have been your biggest success stories doing that?
I've had a few jobs like that.
I'm very aware that it's people's memories that I've been entrusted with so I try my very best to honour that with a good job.
What interesting requests have you had?
At the moment I've had a lot of jobs from fans of Rosario Central in Argentina,  I've been amazed to find out that my work is known as far away as that.  The fans of that club have been fantastic with me and the feedback has been amazing according to Google translate 😉
Where is the best place for people to contact you for requests?